Spotlight College: Nichols College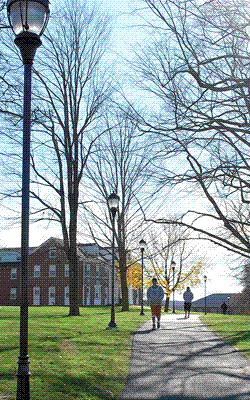 Nichols College prepares students for successful careers in business and public service. The numbers speak for themselves, an astounding average of over 94% of students obtaining professional positions upon graduation. Perhaps more impressive is that 1 in 10 Nichols graduates become a CEO, President, or own their own business. Our career focused education takes place in a friendly, nurturing, small college environment located within one hour of Boston, Providence, and Hartford.
Nichols offers two undergraduate bachelor's degree programs:
Bachelor of Science in Business Administration
Bachelor of Arts
Business Administration All Nichols College students must complete a well rounded core of both business and liberal arts courses. Nichols offers career focused business concentrations in the following areas: Accounting, Arts and Entertainment Management, Business Communications, Criminal Justice Management, Economics, Finance, General Business, Human Resource Management, International Business, Management, Management Information Systems, Marketing, Hospitality Management, Legal Studies, and Sport Management.
Liberal Arts Students at Nichols may major in Economics, English, History, General Psychology, or Mathematics.
Educator Preparation Students interested in teaching the middle or secondary school levels can complete our Educator Preparation program. We offer subject area concentrations in Business, History, English, or Mathematics.
You don't have to dig for buried treasure to pay for school. Dig Nichols College, and you will be eligible for a $1,000 Nichols College CollegeTreasure.com Scholarship on top of any other scholarship money you are already eligible for. By Digging them, your profile information will be sent to a representative of the college.

(click the icon to enter the bonus scholarship contest)